Venue
The conference will take place at the Nanjing International Youth Cultural Centre (No. 9, Jinsha River West Street, Jianye District, Nanjing). The Cultural Centre, designed by Zaha Hadi, occupies a site area of 5.2 hectares with a construction floor space of 465,000 square meters. The taller of the two towers is 315 meters/68 floors high and contains office floors and the Jumeirah Hotel. The shorter tower is 255 meters/59 floors in height and houses another 4-star hotel. The four major program elements of the Cultural Centre (a Conference Hall, an Auditorium, a Multifunctional Hall, and a Guest Zone) are independent volumes surrounding a central courtyard.

---
Conference Floor Plan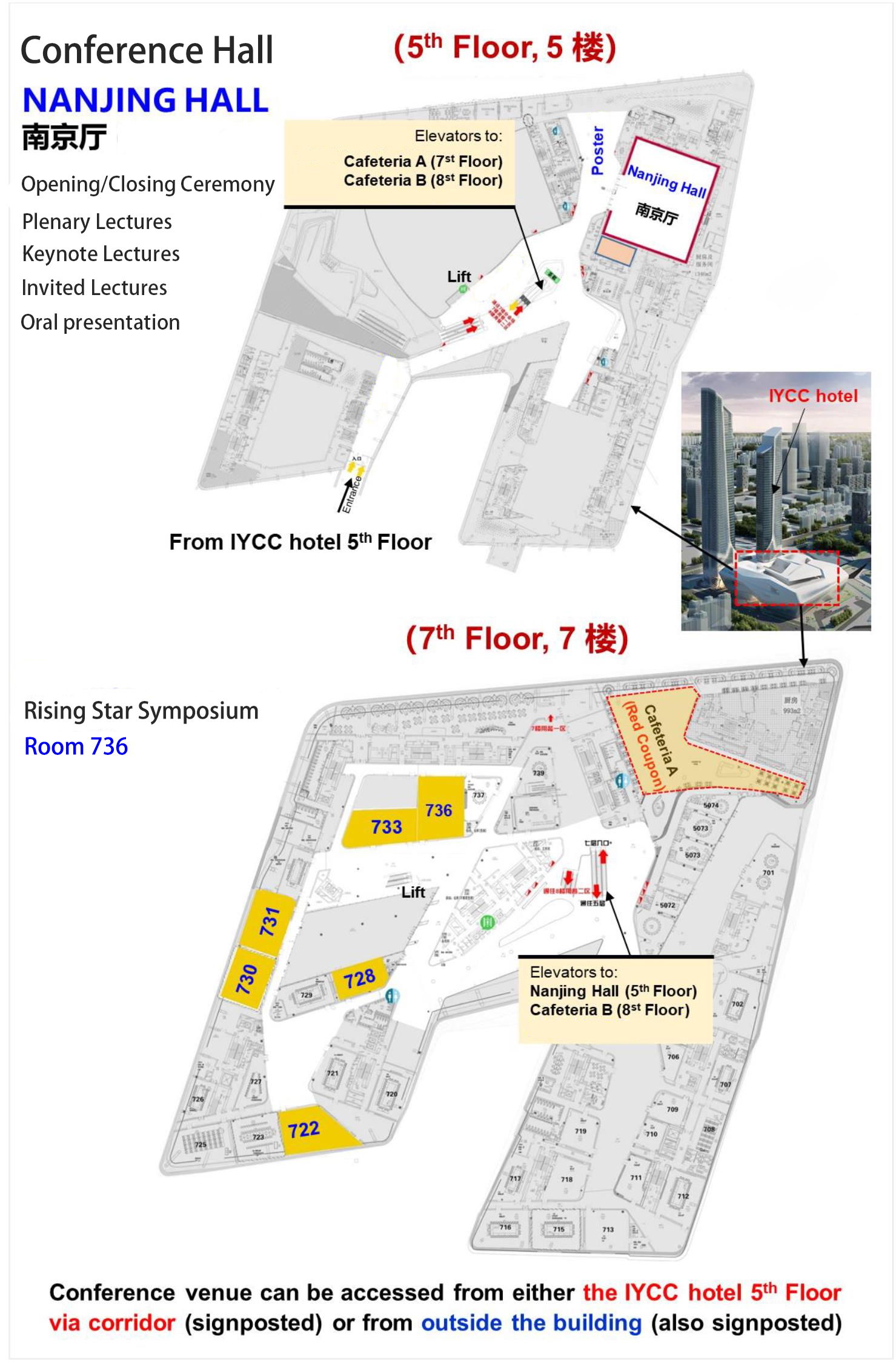 ---
Accommodation
Accommodation is arranged to be in the same building as the venue. Nanjing International Youth Cultural Hotel has over 700 rooms. It covers free WIFI, indoor swimming pool and luggage storage. Other amenities include 24 hours lobby manager, valet parking, morning call, cafeteria, banquet hall, bar, dining room, CCTV, business center, SPA, gymnasium, massage room.


Rooms have been reserved at the conference hotel (Nanjing International Youth Cultural Hotel) for the conference duration from Sept. 10th to 14th, 2023, and are available to all conference participants at a special group rate.
King Size Bed Room (550 RMB/per night) incl. 1-2 Breakfast
Twin Beds Room (550 RMB/per night) incl. 1-2 Breakfast
To book a room, you can fill out the reservation information on the registration without paying immediately. We will contact the conference hotel and reserve a room for you. You will pay the total amount during your stay at the accommodation, either by cash or card. September is the prime tourist season in Nanjing. We kindly recommend making your room reservation in advance.
Cancellation/change requests can be made by emailing icmm2023@nju.edu.cn.
Please click here to book your room!
BEWARE OF PHISHING EMAILS!
Emails from ops@travellerpoint.org are NOT related to us.
Do not share details or personal info.